Level up your bots and make them rarer by merging them in our Deflatinator and record this on the blockchain.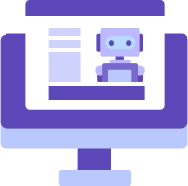 Buy & Sell PowerUps
for your BlockBots! PowerUps are the weapons & accessories that will increase the power of your BlockBots for the upcoming Play-to-Earn Game.
Block-bouts - buy power-ups, fight your bot against other bots to win unique and advanced power-ups.
BlockBots can be converted into reward-producing assets by staking them or putting them in NFTX vaults.
Personalize your BlockBot by changing its name. You will need to spend a few IND tokens to accomplish this on the blockchain.

Keep an eye on this page for more adventures.